Dispatch System Overview
With over
17 years refinement and counting

, Taxi Commander is the

most complete and reliable

taxi dispatch system on the market.

Responsive, Accessible Support: Its Comprehensive and It's Included.  You're Covered!
Taxi Commander dispatch systems include Live Help Desk, backed by our experienced support group. In addition, all Taxi Commander dispatch software includes free software updates with new features, as requested by other users. You can count on us. We understand the fine details of your business.
Move Once: Age In Place
Taxi Commander is flexible and scalable, allowing you to start simple and within your budget, yet never run out of headroom. Add features as you require them and grow naturally. Its like moving into a small house and being able to add rooms as your family grows, without ever having to move out.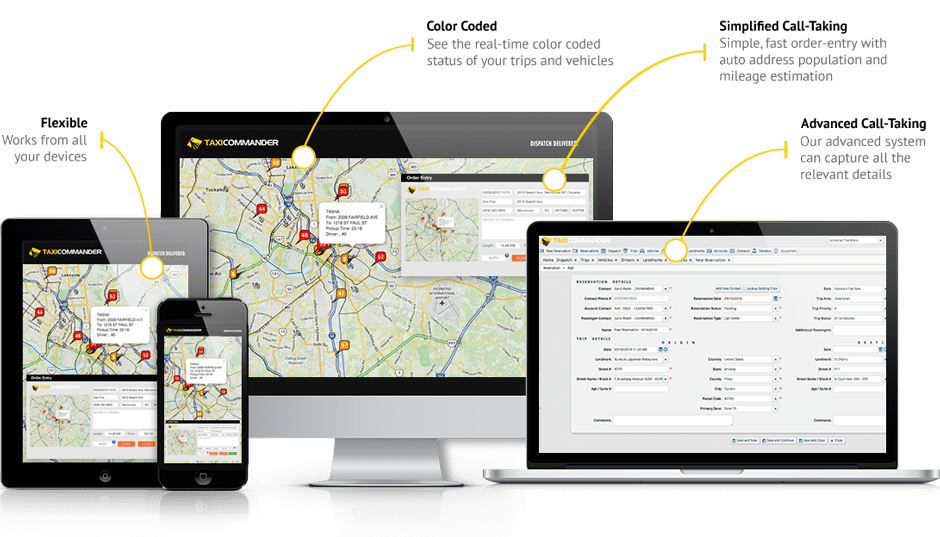 Dispatch System Overview: The Proof Is In The Pudding
Taxi Commander is loaded with useful features, each one with its own meaningful purpose. We listen to our users and integrate their feature requests on a regular basis. Taxi Commander is not only built by us, but also by our users.
Your Business: Without Limits.
We give you limitless potential to power your growth. As your business grows, your customers will demand additional services. You'll need a dispatch partner that has the flexibility to meet your needs. We can't give you a free system, but we'll give you incredible value.
Comprehensive Setup & Training: We've Got You Covered!
Regardless of whether you choose Basic, Advanced or Professional, all Taxi Commander systems include complete setup and training so that you can hit the ground running. We don't believe in free trials because we've learned over the years that the most successful outcomes occur when both parties are equally committed. No one is committed in a free trial.
What Else? Best-in-Class Passenger Booking Tools
Need a passenger app? No problem, all Taxi Commander systems include our beautiful smartphone apps. Choose your preferred branding and we'll throw in our web kiosk app, so your best accounts can request a car with one click, then watch your car drive up in real-time.
Dispatching: We Make It Simple and Affordable.
Taxi Commander provides incredible value. You pay only for what you need, then add more features when you need them. We grow with you. Its easy to use, reliable and backed by fantastic support. We keep it up-to-date and working. Taxi Commander will give you back much more than its investment.