Taxi Meter Integration
Taxi Commander
Advanced and Professional Editions

are fully integrated to popular taxi meters

with advanced features.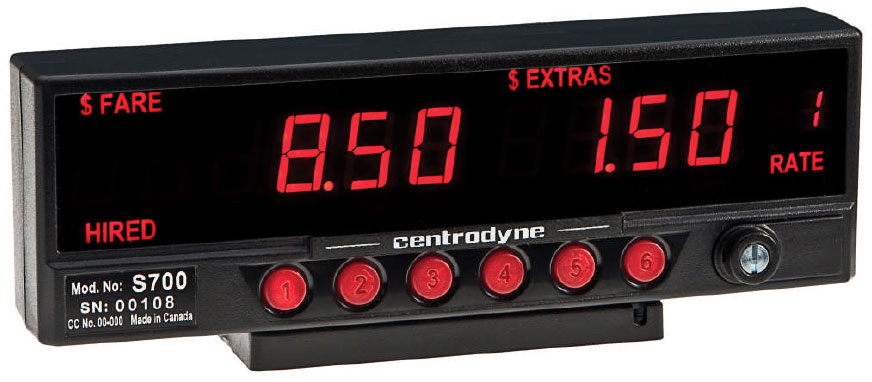 Complete Dispatch Control
Operates with leading meters from Centrodyne & Pulsar

Integrates the meter to the vehicle dispatch tablet or MDT

No wiring required for simple, fast installation

Available with or without meter receipt printer

Prevents drivers from working when not logged on

Puts dispatch in complete control of all active drivers
Packed With Flexibility & Power: 
Remote Meter Lock On Driver Log-Off

Auto Flag Trip Creation With Meter On

Dispatch Is Aware of All Active Flags

Ensures Accuracy of Job Status Timestamps

Optional Prompt on Load for Destination Zone
Fully Integrated for Receipt Printers

Optional Pickup & DropOff Address Printing

Full Fare Pass-Through To Tablet or MDT

Fully Integrated to Credit Card Devices

Meter Lock-out For Past Due Drivers
In today's passenger transportation fleets, we see a mix of organizational structures. Many taxi, black car and limousine companies operate as brokers or dispatch houses. Others are set up as cooperatives that are owned equally by the drivers. The balance are full service organizations that own all or most of their fleet assets. As a result, we see a wide range of different driver types, with some operating as independents, others as owner-operators, while others operating as employees.
With today's competitive pressures, it is more important than ever to maximize the service levels provided to your customers. To that end, regardless of your organizations structure, its critical to maintain a consistent, quality brand. Customers must receive the same level of service in every car. The consumer on the street does not care about your corporate structure or whether your drivers are independents or employees. The challenge for many fleets is maintaining a strong, consistent brand and quality service, which juggling the needs of independent drivers.
If your fleet is metered, then having knowledge and control of those meters helps you understand what's really happening out on the street. Which cars are actually working -which drivers are on personals -what the actual fares are -when the driver actually cleared the call and so on….
Taxi Commander provides complete taxi meter integration. Whether you are using your own consumer grade tablets, such as Samsung or our ruggedized MDT's, this feature comes standard for use with popular smart meters.
It's just smart business and ultimately, what's good for the fleet is good for the driver. After all, its your brand and your service.